An Apple A Day Makes the Customers Come To Stay: Apples Aren't Just For Teachers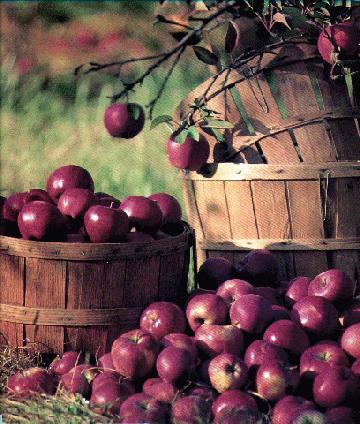 Regardless of age, it seems that everyone enjoys the fun of hayrides and apple picking in the fall. Shelburne Farm, located in Stow, MA and run by Ted and Liz Painter, is a great place to pick peaches, pumpkins, and apples. There is a wide variety of apples currently available for picking at Shelburne including Macintosh, Cortland, Macoun, Fuji, Empire, and Pippen. Shelburne Farm is also available for school tours and birthday parties.
The farm has been exceptionally busy this season, and it has approximately 100 employees, mainly consisting of high school students from neighboring towns. The employees sell doughnuts and bags for apple picking along with working at the various attractions. As the season picks up, so does the number of customers. Shelburne and its staff are expecting yet another busy fall season, and expect the number of customers to nearly double over Columbus Day weekend. The farm is dedicated to staying open seven days a week, "rain or shine," and its employees have the same attitude.
"Only at Shelburne" is a popular phrase amidst the 14-18 year old workers. When a challenge appears, such as a back-up on cider doughnuts or the cash registers shutting down, these ambitious kids are on it like bees in a hive. They do everything they can to resolve problems as quickly and efficiently as possible, and they have a great sense of comradery.
Sixteen year old Sam Talpey, the grill manager at Shelburne, said that the best part of his job is "the people that work there."
"It's been extremely busy, but everyone working there is very friendly with the customers, even when they get backed up to the point where the line for food wraps around the whole barn," Talpey explained. "Even when the customers start to get impatient we all still try to keep a smile on our faces to keep the environment calm and enjoyable."
Sam Talpey's twin sister, Emma, also works at Shelburne Farm as a supervisor in the kitchen. She trains new employees on order filling and also operates the doughnut machines. She claims, "As the business picks up, we usually end up getting pretty backed up with orders and we've had long waits for doughnuts before, but the workers in the kitchen are quick and they pick up the pace efficiently, which has really helped us manage our large customer base before."
The employees work hard for hours a day to make sure all customers are satisfied and happy, and they do it with a smile on their faces. Jobs include filling orders of food, doughnut making, working the cash register, cleaning the fields, moving objects (such as pumpkins and hay), tending the animals, driving the tractor for hayrides, cooking, and much more. It can be said that all employees look forward to their shifts at Shelburne, whether they work all day, or even a couple hours a week. Customers are not the only ones who can have a great time with their friends at Shelburne Farm.
Ted and Liz Painter, the successful owners of the farm, are great at making sure everything is set for a perfect family day at Shelburne for the eager customers. They walk around the orchard all day, watching over everyone. They are always there to address any problem and to make sure that all of the employees and customers are having a fun and enjoyable time.
All families go home with a perfect bushel of apples, fresh apple cider, or a bag of warm cider donuts to complete the feeling of Autumn. There are many types of apples, peaches and pumpkins available for picking. In the store, customers can find pumpkins, various pies, decorations, Vermont cheese, fresh cider, jam, fudge, cider doughnuts, and even ice cream.
Shelburne Farm is a popular spot for families. There are mazes, tractor rides, and animals like horses, a llama, goats, and ducklings. The various, warm foods are also popular for the children. Shelburne is also a fun place to meet up with friends or have a team bonding. There is much to do and see in a friendly, fun, and welcoming environment such as Shelburne Farm.
So, how'd you like them apples?