Stow Gobbler 5K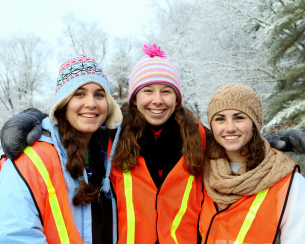 Planning on consuming tons of food Thanksgiving Day? Before you do, burn a few hundred calories and support a good cause at the same time.
The 9th Annual Stow Gobbler 5k will be held on  Thanksgiving Day at 8 a.m. at Stow Community Park on Old Bolton Road. Runners are asked to park in the BOSE corporation. The 3.14-mile course begins in the front of the Stow Community Park on Old Bolton Road and continues across 117 onto Delaney Street, where they pass mile 1. From there, runners will turn right onto Harvard Road and proceed until they take a right onto Hiley Brook Road (mile 2). The course then turns left on Lantern Road, briefly runs on 117, and then turns right onto Harvest Drive. After circling the Bose facility, the race ends on Bose Road on the back side of the community park.
In the past few years, the Stow Gobbler  has been organized by the Honig, Piccioli, and Harnett Families. According to the race website (www.stowgobbler.org) the race was originally created by the "Papanastassiou brothers and then coordinated by the Hurd and Allaire families." The Papanastassiou brothers (Alex and Nick) founded the race when they were students at Nashoba in 2006.
The Gobbler race raises money for two different organizations: Habitat for Humanity and the Stow Community Chest. According to its website, Habitat for Humanity is a "nonprofit christian organization founded on the conviction that everyone should have a decent, safe, affordable place to live." The Stow community chest website says it"raises money to support a variety of health programs, social service agencies, and community programs that benefit our town".
In the past, The Gobbler 5k has raised around $16,000 for these great organizations. The hope is to add even more this year as the race is expected to be even bigger than in past years, when hundreds of runners competed.
"The amount of runners and money raised gets more successful every year," Nashoba junior Katie Piccioli said.
Not a runner? No problem. The Gobbler organizers are always looking for volunteers for race day. Volunteers help distribute numbers, pass out t-shirts, man water stations, and serve as race marshals. Without volunteers, the race would not be able to happen.
"We need people to help out with registration on the race day, and we also need people to stand on the side of the course and show the runners where to go," said Piccioli.
If you are interested in running or volunteering, registration can be completed online or by printing out a registration form from Stowgobbler.org. Kids twelve and under run for $10 per person, adults 13 and up run for $22 per person. If registering the day of race, adults run for $25.
For people of all ages, the Gobbler is a great way to get a quick run in and support a great cause before a big, scrumptious turkey dinner!
Photo Credit: stowgobbler.org