The Future of Coffee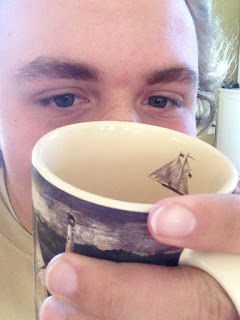 Do you like coffee? Do you enjoy a convenient snack? If you answered yes to both of these questions, then new Starbucks app is just the thing for you! By downloading this new tool, one can now pre-order a desired item from the menu and pick that item up when you arrive. The app will let you know when your order will be ready, as well as the location of the closest Starbucks. This luxury was released on September twenty second; it is currently available nationwide. Those craving caffeine will no longer have to wait in line for their coffee, instead an individual will be able to pre-order and to pay through this efficient app.
This trendy idea originated in Portland, Oregon. Starbucks' tested the app toward the end of 2014: it was so successful that they decided to make available nationally. Now, thousands of Starbucks shops across the United States are taking part in the phenomena. In order to get a local opinion on this fascinating story, I interviewed Nashoba student and Starbucks' coffee "expert", Peter Farrell.
"Well before you just told me about it, I had no idea it existed. They should advertise it better 'cause it seems like something people would want to use," said Farrell. "I will definitely look into getting it."
In addition to interviewing Mr. Farrell, I talked to Nashoba student and Starbucks' fan, Caitlyn Curtis. I saw her input to be of particular significance because while she loves Starbucks' coffee, Ms. Curtis usually drinks Dunkin' Donuts coffee in the morning due to the latter's superior accommodations.
"Well (Dunkin' Donuts) is the most convenient," said Curtis, "but if given the option I would prefer to go to Starbucks every morning."
Sadly, Ms. Curtis did not know of the new Starbucks' app until I had mentioned it . When I asked her if the new application would affect her coffee-drinking habits, she surprisingly responded with indifference.
"Probably not," said Curtis. "Considering I don't know where the closest Starbucks is, it would still be inconvenient to drive to, especially if I'm also trying to get to school."
While the app doesn't solve all the world's coffee accessibility problems, it does alter the way in which people approach their Starbucks' experience. The app also includes many other features: it allows users to earn free rewards, permits users to access to certain new products. Additionally, Starbucks' "Pick of the Week" system allows customers to win free songs, apps, etc. Although this app may not appeal to every American, it does cater to a new, smartphone-driven generation.