Senior Breakfast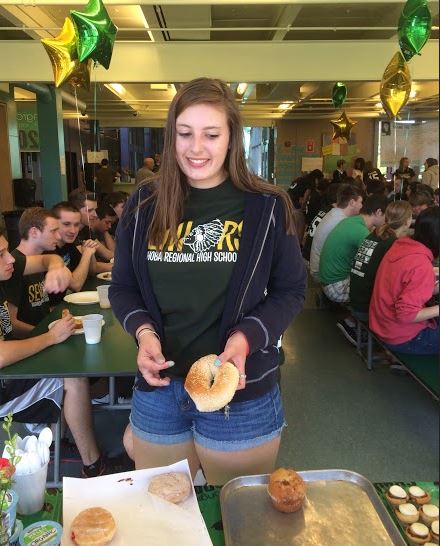 Senior year came to a close for the class of 2015 this past Friday, May 22nd. Nashoba's cherished seniors were celebrated by their younger classmates, dedicated teachers, and proud parents throughout their long, fun-filled spirit week. To conclude the festivities, there was a delicious senior breakfast.
The breakfast was organized by the parents of the senior class. Mrs. Anderson and Mrs. Feakes dedicated their time to spearhead the event. They wanted to celebrate the amazing students.
The breakfast consisted of "almost any breakfast food you can think of!" says senior, Hannah Feakes. She recounts the delectable bagels, eggs, sausages, bacon, muffins, and donuts that were served.
Senior students relaxed and stuffed their faces in the cafeteria. While eating, they reminisced about their fun past, and looked forward to their exciting college experiences. Hannah Feakes shared, "This was a great end to the year, probs gonna cry today…"
The senior breakfast ended with a heartfelt speech by principal, Dr. Parry Graham. He thanked the seniors for keeping their pranks within the lines, and then shared what the senior's last day would consist of. He also included his thoughts about the senior class as whole. The seniors were "an amazing class" and will surely be missed.