Freshman Year: A Breeze or a Burden?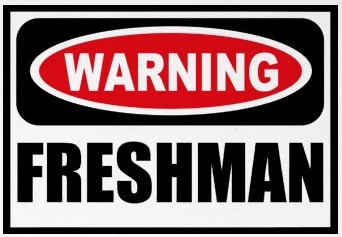 As the fourth and final quarter progresses, everyone is getting ready to check out for summer after a long year. Over the course of this year, the freshmen class adjusted to returning to the bottom of the food chain as the youngest students in high school. However, freshmen year was not as bad as many had anticipated.
Duncan Wilgress-Pipe, a member of the Class of 2018 explained, "[Freshmen year] was better than I expected because it was more fun than I thought. I met a lot more people than I had expected to".
Many other current freshman agreed that this year was better than they had expected, such as Katie Sidopoulos.
 "In eighth grade, I knew everyone because I had been with them for eight years… And then it was a fresh new start in high school and I got to make new friends!" Sidopoulos pointed out. She, along with classmates Mary Bussiere and Jake Schiering, agreed that making new friends was one of the best parts of their first year in high school.
The buildup of stress for rising freshmen about those first few weeks of school, and the initial adjustment away from middle school, is overrated. Though high school seemed pretty scary and big on tours taken in eighth grade, it's really not. Nashoba really is not that intimidating.
 When asked how long it took to adjust to high school, Mary Bussiere said, "It took me no time at all! It was pretty much how I thought it would be… Everybody was right how a lot of your friends come from pretty much whatever sports you do. I thought that because I met some really great people. For the actual academic aspect, it didn't go exactly how I had planned but it was still good" .
After going to school with the same people for nine years, for most of them, being in classes with the majority of people from other towns was quite a change.
However, being almost forced to make new friends in high school was a plus for most people. In fact, many memories of freshman year come from being with these new people.
Honestly, entering high school is not something to stress about because there are nearly three hundred other people in the district going through the same thing. Most freshmen are enjoying high school and its freedoms much more than eighth grade and their freedoms.