Spring Music; Chorus Edition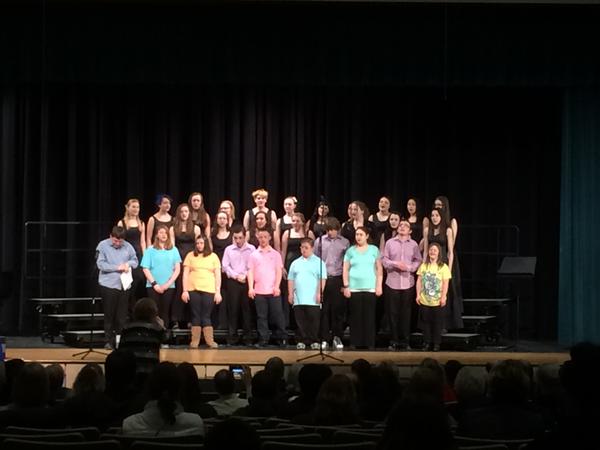 This year's spring chorus concert was held on March 24th in preparation for the MICCA (Massachusetts Instrumental and Choral Conductors Association) festival on Sunday, March 29th. Two of the five choruses will go to the festival in order to win a Gold, Silver, Bronze, Medal of Merit, or a Participation Certificate, solely based on their performance. Last year, Nashoba's Concert Choir was two points away from a silver medal; the closest they have gotten to reward in years.
This year, our Chamber Choir and Concert Choir will be participating in the festival and each of them singing three different songs from this past concert. One of them must be in a different language, and one of them should be accapella, but it is not required. Chamber Choir has two accapella pieces, one of which is in Italian, and the other has accompaniment in Latin. Concert choir has one accapella piece, one Latin piece, and another accompanied piece. They were also responsible for learning three other pieces that were performed at the concert.
Besides these two choirs, three other groups performed: the Best Buddies Choir, the Broadway Women's Ensemble, and Nashoba's Accapella Club (also known as "The Chieftones").  Best Buddies Choir always brings smiles to people's faces, and they did with their selections of "Do You Want to Build a Snowman?" from Disney's Frozen, and "Can you Feel the Love Tonight?" from Disney's The Lion King. Broadway Women's performed selections from the composer Stephen Sondheim, including "No One is Alone" from Into the Woods, "Not While I'm Around" from Sweeney Todd, and "Being Alive" from Company, featuring soloist Gwen Burke. The "Chieftones" sang a mashup of songs from the band Fun, including "Some Nights", "We Are Young", and "Carry On". Soloists in this song were freshman Sarah McGregor, sophomore Evan Daisy, freshman Emily Routhier, and junior Carson Bond. The guys of the group sang "For The Longest Time" by Billy Joel, featuring soloist Zach Weber, and the girls of the group performed the Pitch Perfect mashup of "Just the Way You Are" and "Just a Dream" featuring soloists Cara Cummings and Erin McNemar.
Their next concert will be Friday, May 15th at 7 p.m., which is the choir's director Mrs. Mianulli last concert. Good luck at MICCA!
For a video of one of Concert Choirs songs, "You Raise Me Up" (dedicated to Michael Farnsworth), click here.
https://twitter.com/NashobaBands/status/580529334412296193/video/1
Photo Courtesy to Mr. McCarthy