Run, Nashoba, Run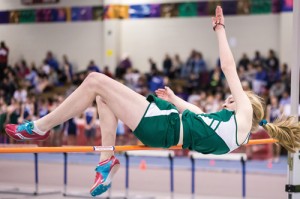 Nashoba's Varsity Boys and Girls Indoor Track teams both have had some on and off moments so far in their winter 2014-2015 season. Mostly due to injuries and sickness, both teams have a 2-4 record.
"We haven't had our full roster competing at any one time," Girls Coach Ben Langelo states. "But we've kept all of our meets competitive and shown good fight in every event."
Langelo also feels that if the roster was full, the team would easily have the record flipped from 2-4 to 4-2. He also praises the girls captains Natalie Bettez, Sarah Gaffney, & Sarah St. Pierre for really pulling through this season.
"They've been phenomenal at practices and meets," he says. "They've really gone above and beyond what I've asked of them this season."
The boys team has decreased since last year, with losing some star athletes to graduation. Their team has also had lacking attendance, which might have lead to their record. But the people that make up the team are really talented.
"Captains Adam Heislein, Thomas Bunnell, and Ben Hart contribute positive leadership to the team," Coach Steve Beckwith explains.
The league meet is on Saturday, January 31st in Fitchburg. Good luck to both teams!