John Kilgo: Committed to the Grind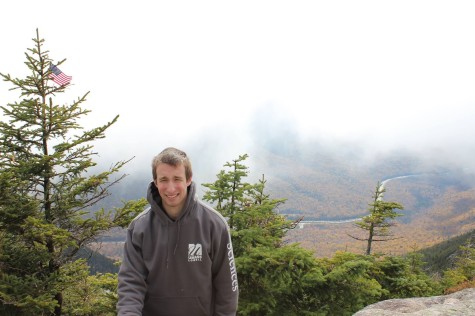 What is a "grind"? A "grind" is described as anything involving laborious work that is done in a repetitive or mechanical way. There are many types of grinds that one can partake in; it all depends on what the person is doing. If it's participating in a sport, then it would be called a sports grind. Working on a job would be considered a work grind. Whatever it is, it's being done for a greater purpose, whether it be pushing towards the state championship or working to get a promotion. Now, if there is one person that is dedicated to the grind, it's John Kilgo. He is a Nashoba Regional High School graduate of the class of 2013, a contributing community member, and he is committed to the grind.
John Kilgo is one of the hardest workers out there. He graduated from the high school with an impressive GPA and ever since he has greatly improved it. But it's not just the school smarts that helped pave the way for him in his college career: John got an early start in business. Starting in 2010, he was able to gain great experience from small business owners, restaurant owners, sports coaches, athletic trainers, and other organizations within the community. He helped these owners blossom their legitimate businesses through the creation of online websites and more. Along the way, he was able to learn how to communicate efficiently by working in the real world.
Most high school students have no idea what they want to do before they graduate, but for John, that wasn't the case: "He [John] knew what he wanted to do at a young age and he went out and did it. I think that's what helped him the most; he wasn't going into his college career cold" said John's father, John Kilgo Sr. Of course, it wasn't just skill that got John to where he is now, it was his hard work as well as determination. John took extra courses in high school, including a summer math course to help prep him for the computer science field. He even worked extra hours with various teachers. In addition to that, he completed his required courses to graduate, completed his chores at home, filmed school committee meetings, and grinded through grueling wrestling practices (Unfortunately, his wrestling career was stopped short due to a shoulder injury his junior year).
John's known work ethic earns him much praise from the people around him: "To be honest, he's [John's] done a lot of work. Most people don't realize how tedious and time consuming computer programming is. And when you add daily school courses and chores on top of that, you get a heavy workload" said John's mother, Lisa Kilgo. Current Nashoba Junior, Liam Curran, even had some words to say when John's was mentioned: "John is an independent man who shows initiative in his job and education and has a splendid taste in music".
John's hard working high school years set the path for his college career. Currently, he is working towards his B.S. in Computer Science from UMass Lowell. In addition to this and his website work, he has found an interest in real estate, property, and business management. He has even gained experience in these areas by working for TMI Property Management & Development in the Lowell area. Even with his busy schedule, John still finds time to come back to the high school to assist with technology issues and film some school committee meetings.
John Kilgo is an example for all of us to follow: he is a hard worker in the pursuit of his dreams, he is a helper when needed, and he is committed to the grind.