Night at the Museum: Secret of the Tomb… "The Magic Never Ends"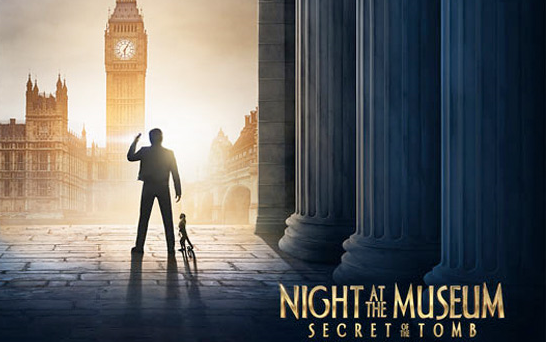 Ben Stiller returns for the third time as Larry Daley, a night clerk at the Natural History Museum in New York, in "Night at the Museum: Secret of the Tomb". Larry encounters many new wax figures when traveling to the British Museum in London England, to save the Tablet of Ahkmenrah; the magic tablet which brings museum exhibits to life.
As previously seen, an obstacle trips up the magical powers of the museum, but this time, it affects the exhibits actions at random points in time. To find out why this is all happening, the characters have to travel (with the tablet and a few memorable exhibits from the New York museum) to the British Museum to find out more on why the tablets powers are fluctuating. The journey includes meeting Tilly, the night security guard at the museum, who hates her job, and Sir Lancelot, who is trying to to find Camelot and his love Elizabeth. While the new characters added new excitement, the classic characters didn't fail to bring New York to Britain.
Although most trilogies usually end in a bust, director Shawn Levy pulled out another stellar classic to this trio. He brought in familiar and popular actors like Rebel Wilson, known for her performance as "Fat Amy" in the movie Pitch Perfect, and Hugh Jackman, recently known for receiving his first Academy Award for playing Jean Valjean in the movie Les Miserables.
While the movie did bring in new actors, two actors were lost before the films release. Mick Rooney, who played Gus, a former night security guard of the museum, passed away nine months before the movie was released to the public. Along with Rooney, Robin Williams, who has played Teddy Roosevelt in all three films, committed suicide five months before. At the end of the movie, the words "In loving memory of Mickey Rooney and For Robin Williams – the magic never ends" appeared on the screen.
Truly, the magic will never end in this time-worthy trilogy.