Powderpuff Reigning Champions & Pep Rally Festivities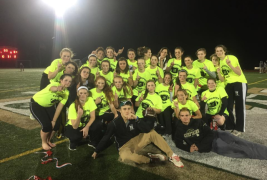 The 2014 Powderpuff football game and Thanksgiving Pep rally has come and gone once again.
Monday night, November 24th, Nashoba students, faculty and parents gathered together for some friendly competition. All classes participated in the Powderpuff game, a series of three games, resulting in a winning team. The first game consisted of Juniors against Freshmen, and the juniors walked away with a win.
The next game commenced at 7pm, Seniors vs. Juniors. The seniors crushed it resulting in a final score of 34-0. The final game was between the Seniors and Juniors and was very close until the last quarter. Senior Kelly Poole scored the only touchdown of the final game putting the senior team in the lead and becoming Powderpuff champions for the second time. The holiday festivities continued into Tuesday at the Thanksgiving Pep rally.
The annual Nashoba Pep rally proved to be a success with the band, chorus, fall athlete recognition, games and of course, the traditional tug of war between students and teachers. Among the usual shenanigans, the faculty pulled a prank on the student body and came out with a flash mob dance featuring a penguin.
To motivate the crowd, Nashoba's Best Buddies rolled out the red carpet and displayed their models. The buddies chose three faculty members, Mr. Cormier, Mr. Tinchert and Donny, gave them makeovers and watched as they strutted their stuff during the rally. The usual chants and cheers made an appearance and everyone, especially the seniors showed their spirit with signs and Nashoba attire.
The thanksgiving themed activities were finally wrapped up Thanksgiving morning as the Nashoba Football team played their hearts out for their last game of the season against North Middlesex. The final score was 35-13 and the boys took home the final win of the season.