Hunger Awareness: Save the Leftovers, Save the World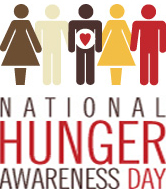 Close your eyes, rub your stomach, and think about what you ate yesterday. Probably three meals and a couple snacks right?  Now compare that to the percentage of undernourished citizens of Burundi, Central Africa and even in The United States. The results are truly astonishing. Although the average American consumes about one ton of food in the span of a year, 1 in 7 Americans, 46.5 million people, 12 million children and 7 million senior citizens struggle with hunger and over 73.4 percent of the Burundi population is undernourished (Feeding America).
Thanksgiving is less than a month away and while this holiday is a favorite of many Americans, it has lost its original meaning over the decades. Rather than acknowledging the things we are thankful for, many people have morphed this holiday into the "stuff your face" day. And while a fair amount of Americans have the means to eat turkey, mashed potatoes and stuffing without giving it a second thought, the majority of the world's population does not have this privilege.
Hunger is a real dilemma in this country and although it is the twenty first century and one would think that by this time, hunger would not be as significant a problem as it is, the younger generation has an unwritten responsibility to pay attention and take action.
National Hunger Awareness Week is held each year the week before Thanksgiving, beginning on November fifteenth and concluding on November twenty-third. This is a time for all of us to start to think about what we are thankful for, and a perfect time to share our compassion with our people who are experiencing hunger, both in our neighborhood and worldwide.
The first step to solving hunger is to get educated about the problem and get involved in finding a solution. Throughout Stow, Bolton, Lancaster and surrounding areas, there are a slew of food pantries and other places to donate canned goods and packaged leftovers. Ginny's Food Bank in Leominster collects bread from local restaurants and receives donations. W.H.E.A.T Food Band in Clinton is attempting to "provide hunger relief, improve the quality of life, and connect families and neighbors in need to essential services in our community. Our goal is to reduce levels of food insecurity, while strengthening the connections between people and available resources." W.H.E.A.T has locations in Framingham and Marlborough as well.
On Thanksgiving Day, starting 8 a.m, the town of Stow hosts an annual Stow Gobbler 5k to raise hunger awareness and donates to Habitat for Humanity and the Stow Community Chest as well. Hundreds of people turn out for this event and it has been a huge success in past years. Last year, 960 runners participated and  raised over $15,000 for these charities.
According to the Feeding America website,  "participating in National Hunger Awareness Week not only brings greater awareness to your community, but also helps to promote the national endeavor to end hunger." On this website, one has the option to donate 25 dollars to 1,000 dollars; either one time or monthly. This is a great and easy way to donate to the community and benefit  those suffering from hunger.
Tell your friends and family, neighbors and colleagues, to join forces, donate, raise awareness, and end hunger once and for all.