"It's a Wonderful Life" Indeed:The leads of the Fall Play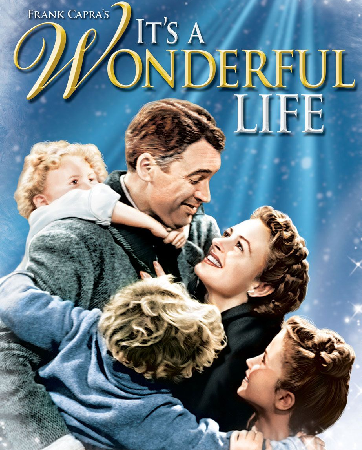 This fall, the Nashoba Drama department is taking on the 1946 Christmas classic: "It's a Wonderful Life".
The story follows George Bailey's life, a man who gives up all of his hopes and dreams to devote his time and effort to his hometown, and to his father and uncle's business, The Building and Loan. The story is a flashback, showing the important events that have made him such a valuable person in so many people's lives. But now, George is being manipulated by Mr. Potter, the owner of a monopolizing business in town who will do anything to get his hands on The Building and Loan. On Christmas Eve, he is about to commit suicide, but he does not realize that the people whose lives he changed are praying for him, just to make sure he is alright. The heavens are showing all of this to Clarence, an angel who is trying to earn his wings. When Clarence appears before George, he shows him something that changes his life forever.
In the Nashoba production, George Bailey is being played by Sam Kieth, a sophomore who made himself known in last years production Les Miserables, as Javert. His savior from the heavens is played by Ryan Bonner, who has played many different lead rolls in his past four years at Nashoba. Tyler Plaskon is the evil Mr. Potter, a senior who has been a lead in every production throughout his high school career. George Bailey's wife is played by Kelly Ryan, a senior known for her amazing singing voice, and fabulous acting skills. Many other students are showcasing their talents in this production, with over thirty name roles.
The production of "It's a Wonderful Life" will be held at Nashoba on November 21st, 22nd at 7 pm, and 23rd at 2 pm . Hope to see you there!