What you Need to Know About Midterm Elections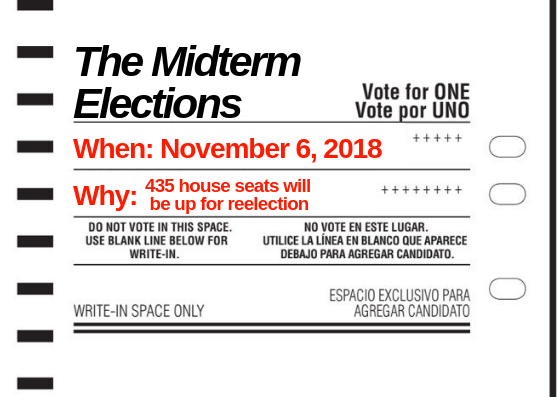 As we draw closer to November, a similar phrase is becoming more and more popular, "midterm elections". While most of us can guess what it is, it is a little less clear what it means to us as voters .
After a polarizing and tumultuous 2016 presidential election and the chaos of Washington amidst lawsuits, investigations, hearings, and a widening chasm of partisan-ism, 2018 beckons the possibility of a reset, and to many that is the midterm elections. With 435 seats open in the House of Representatives, 33 in the Senate, both main parties have a lot to gain- and a lot to lose.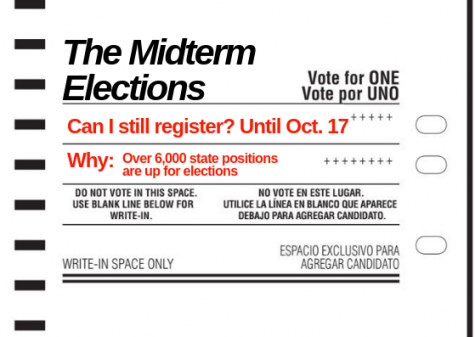 Democrats see the midterms as an opportunity to regain the majority, and Republicans as their way to stay on top in Washington. However, no matter which way you vote this November, its important that if eligible- you exercise your right to vote.
While America already lags behind other countries in voter turnout, such as Australia or Belgium, with only 60% in a presidential election year- midterms are even more scarce, with only 37% of voters arriving to the polls.
As long as you are eighteen years old and a U.S. citizen it is possible to cast your ballot come time, in this case, on Tuesday, November 6, 2018.
Most people choose early -registration when getting their permit at the RMV when they turn sixteen, but it takes less that ten minutes to do it yourself online (go here to register for Massachusetts). All you need is a state issued I.D. (like your license). Register by October 17th and you're all set to head to the polls in November. If you're not sure if you are officially registered to vote, check you're status here.
Before you arrive to cast your ballot, catch up on the questions and candidates in the running this year; these are the Massachusetts state elections candidates. Find out what district you live in (which helps determine your representative) here. And, to catch up on the ballot questions, review them here
If you think that you will not be able to cast your ballot on November sixth, find out more about absentee voting.
(Definitely not required reading) but if you feel the need to brush up on your voting rights, read the Massachusetts voter bill of rights.
And, after you vote, you can even follow your ballot through the counting process.