5sos: Meet You There Tour
After a hiatus of almost 2 years the Aussie pop-rock band, 5 Seconds of Summer (or as fans call them, 5sos) is back on tour.
On Thursday, August 30, 5sos played to a crowd of almost 6,000 at the Blue Hills Bank Pavilion in Boston. The energy that 5sos brought to the stage and arena was unlike any concert of recent memory. Each song, even the slower songs, had the crowd dancing.  There was even a dad (someone not in their demographic) smiling and nodding along to the songs.   
The most energetic song was "Meet You There"; coincidentally the name of the tour, this song was played with almost no vocals and just the intense instrumental. The song got the entire arena (and the band themselves) jumping and headbanging along.       
But, the best part of the concert was the orange hearts. For every headline show that 5sos has performed in Massachusetts, there has been thousands of orange hearts that light up the arena. This year was no different, the orange hearts lit up the arena during the song "The Only Reason", one of the band's oldest songs.
The project was started and continues to be done by a fan, Wilma, also known as idekWilma on Twitter. She tweeted saying "The orange hearts project in Boston was the first fan project to ever happen to 5sos. This goes all the way back to Boston acoustics in 2013." She also tweets her reason for the project, saying, "I hope that throughout their journey, [the hearts] remind 5sos that we'll be there from start to finish."
5sos' energy showed a clear dedication to performing that I have yet to see at many of the concerts I've been to. Ashton Irwin, the drummer of the band, even said during the concert "I live for this!" Their energy, appreciation, and dedication to performing and the crowd was so refreshing, and made the concert fun. They kept saying how they hoped we were having "the best night of our lives" and I have no doubt that it was their ever intention to make sure we did.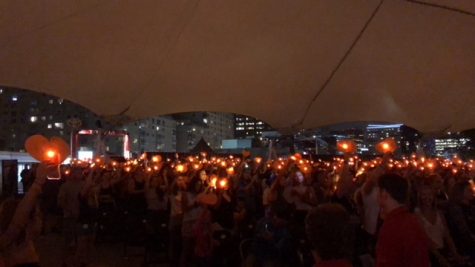 Meet You There: North American Leg Set List
Babylon

Talk Fast

Moving Along

She's Kinda Hot

Girls Talk Boys

Waste the Night

More

Better Man

If Walls Could Talk

Ghost of You

Amnesia

The Only Reason

Lie to Me

Why Won't You Love Me

Valentine

Jet Black Heart

Want You Back

Encore:

She Looks So Perfect

Youngblood
See where else 5sos is going and buy tickets here: https://www.5sos.com/live/