Born for This: Made for Broadway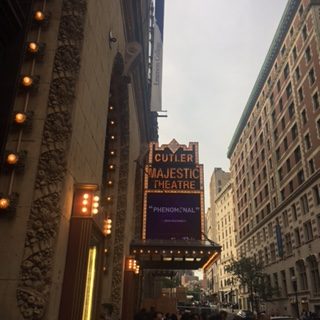 With motivational monologues that make the audience shout "Amen!" and songs that get the whole theatre clapping, Born for This, based on the true story of Bebe and Cece Winans, takes church to theatre in a brilliant and entertaining fashion.
Following the story of their lives, the show focuses on the Winans' journey from Detroit to the south for the evangelical show, The PTL Club, to the international gospel and R&B stage. Looking at what it means to have faith, the show does a fantastic job at portraying the struggle of keeping faith and staying true to yourself. The inspiring story of the Winans is uplifting and heartfelt, regardless of if you are of christian faith or not, the story will touch your heart, make you smile, and have you dancing and clapping along before the final bow.
The sparkly outfits, high energy dance numbers, perfect comedic timing, and heart wrenching performances show off the genius directing of Charles Randolph-Wright. The musical made me (a non-church going white girl) curious enough to research the Winans, listen to their music, and learn all about the messed up ethics of The PTL Club; which I think could have been addressed with more than a few throw away lines and a newspaper headline. Nevertheless, the story of the Winans siblings and their, mostly, undying faith and family life is theatrical and entertaining enough for a musical.       
However, the most convincing reason to see the show is the voices. If Loren Lott (Cece Winans) opening her mouth to sing doesn't give you chills, Donald Webber Jr.'s  (Bebe Winans) powerful vocals or Brad Raymond's (Ronald Winans) soulful singing will. Original music written by Bebe Winans is given rich and soulful performances by all the actors and certainly something that is meant for a Broadway stage. Songs like "I got a New Home", "Seventh Son", and the title song "Born For This" show off the talent of the cast and are guaranteed to have the audience cheering before they even finish singing. 
Artfully combining gospel and show tunes, Born for This sends a message of unity, love, and faith in a time where all of that is questioned and often taken for granted. Regardless of your own faith, you'll be nodding your head and passionately listening to the preaching by the end of the night. 
Born for This is set to run in Boston until July 15th at the Cutler Majestic Theatre. Get tickets here: https://cutlermajestic.org/Online/default.asp?doWork::WScontent::loadArticle=Load&BOparam::WScontent::loadArticle::article_id=68EBE55B-2AF2-4233-B6B9-27FFE66E6136#tickets