The Build-up to the Play for Will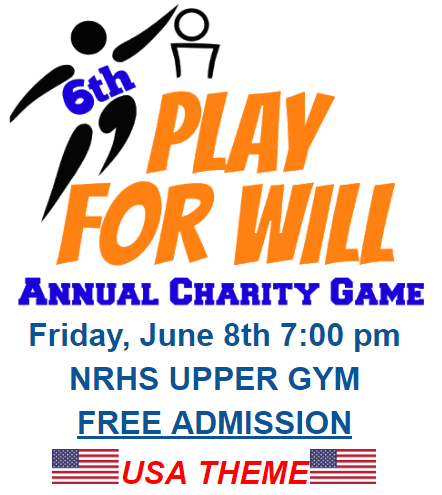 As the anticipation is building up for the Play for Will game on June 8th, both the Nashoba faculty and the Central Mass Spartans Special Olympics Program have been working their tails off in order to take home the win.
The annual game was started by Lancaster resident and owner of Unified Health and Performance, Brendan Aylward. Brendan grew up on a quiet cul-de-sac in Stow alongside his neighbors, Will Hurley and Leah Tepper. Their bond remained strong throughout elementary, middle, and high school, as well as into college.
During the Spring of their Freshman year in 2012, at their respective colleges, Brendan received a phone call informing him that Will had been in a devastating car crash. He passed the following day, on May 4th. Brendan spoke about the day of Will's death by explaining, "the irony of it being 'Star Wars Day' for someone who loved the movies and characters so much."
Several years before Will's passing, Leah was diagnosed with Adrenal Cortical Carcinoma which is a rare type of cancer that attacks the adrenal cortex. On November 1st, 2012 Leah  passed away. Brendan, once again, explained the irony of situation, for she had passed away on All Saints Day, and Leah was just that: a saint.
Play for Will is not just a game in honor of Will, but for both Will and Leah. In the past, the event was focused on raising money, but this year the focus is on getting a loud and involved crowd wearing U.S.A colors to pack the gym. When asked about what he's been doing in order to prepare for the big game, Mr. Andreopoulos explained, "I was actually shooting hoops in my driveway [the other day]." Further showing his commitment to the Play for Will game, he added, "I had to order a basketball off of Amazon."
Make sure to come out to support the players wearing your red, white, and blue as the two teams compete in honor of Will and Leah in the Play for Will game on June 8th at 7pm in the NRHS upper gym. Admittance will be free of charge but donations will be accepted and donated to the Jimmy Fund and Best Buddies organization.  
Teacher Roster:
Jamie Tucker
Tania Rich
Ross Cormier
Andy Leblanc
Danielle MacDowell
Dan Berube
Trevor Short
Taryn Grigas
Joe McCarthy
Casey Hoole
Beth Pratt
Dan Glover
Stavros Andreopoulos
Donny Napolitan
Emily Frisch
Central Mass Spartans Roster:
Robert Wells
Sydney Meininger
Derek Reynolds
Sasha Adelman
Nick Giovinazzo
Zach Murphy
Troy Bell
Josh Mayle
Nathan Finnegan Allen
Patrick Kennedy
Michael Macgown