The Junior's Field Trip to Walden Pond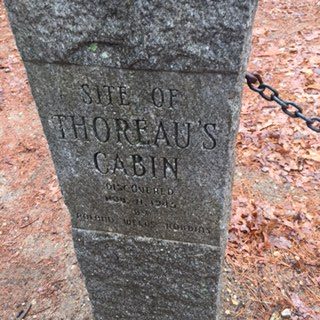 On Wednesday April 25th, Mrs. Lowe and Mr. Ferrante's classes went on a field trip to Walden Pond. A trip that has been attended for many years. 
As in many past years, it was raining once again and there were way too many flies, but it wasn't the worst weather for a hike. Thankfully, Walden Woods, as we learned on the field trip, was never cultivated because of the sandy ground that doesn't soak up water well, meaning there was very little mud and puddles.
Although it was raining, almost everyone came prepared with rain jackets, boots, and umbrellas. The rain was only present for a small part of the trip, and when it was raining, it thankfully, didn't pour. When we walked on the trails that Thoreau himself once walked on, we read sections of his essays (which were laminated to be waterproof!) and one section of the Lorax by Dr. Seuss.
Personally, the Dr. Seuss reading was the part of the field trip that stuck with me. While Thoreau is often hard to relate to, we all grew up reading Dr. Seuss. The Lorax, as the tour guide pointed out, is a naturalist piece, just like the writings of Thoreau and Emerson.
The Lorax monument and excerpt was beautifully placed under the trees in Walden Woods because it solidified the real fear and reality behind the Lorax. Earlier in the tour we learned how the woods was once being targeted to be the building site of a corporate office, so no where is The Lorax more aptly placed than a forest where the message of the story still holds today.
Sophia Lauer, who read the excerpt for the group, said that Walden Woods is important "to show people that the environment has been a known problem for a long time." She also says that "it goes to show that care for the environment is something that we as a community need to recognize."
Sophia's viewpoint was something that many students took away from the field trip- a newfound appreciation for the environment and the world around us.  
Walden Pond and the Walden Woods Project seems to want to give everyone a chance to view nature as Thoreau did. The field trip, although the weather could have been better, taught us a lot about nature and how we view our world.    
You can donate to the Walden Woods Project here: https://www.walden.org/