Vice President Pence and the Gay Bunny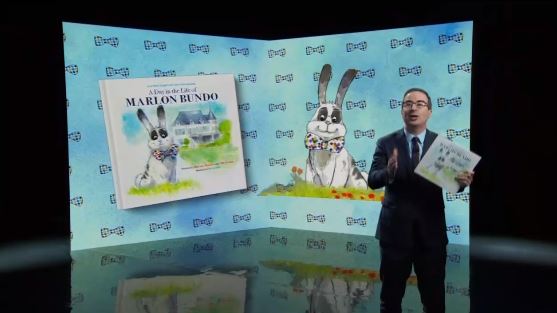 As most people know, Vice President Mike Pence is not shy about his homophobic and "anti-gay" agenda. Recently, however, a book about his pet bunny, Marlon Bundo, as a rabbit with a gay lover, is taking off.
The book, Last Week Tonight With John Oliver Presents a Day in the Life of Marlon Bundo, is a satirical children's book from the late night host John Oliver, who mocks Pence's daughter's book about the pet rabbit (Marlon Bundo's Day in the Life of the Vice President).
Currently John Oliver's book, written by Jill Twiss, is the more popular book. Oliver told his viewers on Sunday how the book is a response to Pence's long time opposition to LGBT rights and how, jokes aside, "this is a real book for children".
The book is currently #3 on the Amazon Best Sellers list, while the real book written by Charlotte Pence is not even on the list.
Last Week Tonight With John Oliver Presents a Day in the Life of Marlon Bundo, details Marlon's friendship with a bunny named Wesley, the love he comes to have for him, and the way he fights to be able to marry the bunny he loves. (Spoiler Alert) The book ends with Marlon and Wesley getting a happy ending and being allowed to marrying each other.
In addition to the picture book, there is also an audio book, voiced by people such as: Jim Parsons, RuPaul, John Lithgow, Jesse Tyler Ferguson, and Ellie Kemper.
Both books are still available for purchase, although Oliver's is currently sold out on Amazon. In addition, both books are battling for the top spot on a national best sellers list; so read about BOTUS (Bunny of the United States) today!