The End to the Endowment Fund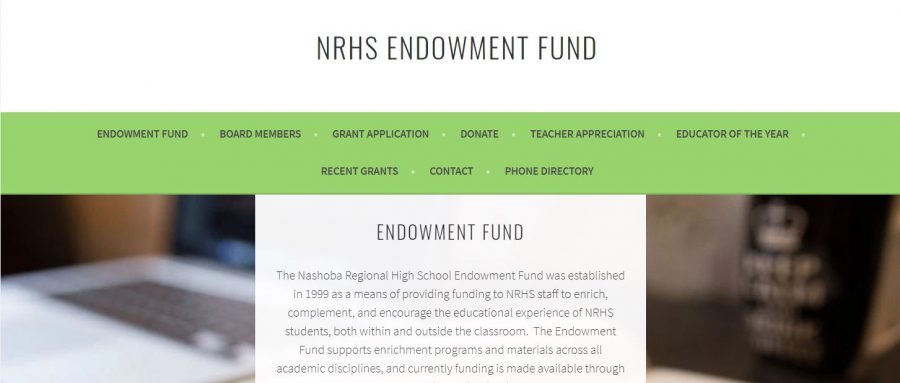 90
On March 5, 2018, members of the Nashoba Regional High School Endowment Fund board voted to dissolve the fund due an inability to recruit new parents to take over the management of this fund. Most current members of the board are parents of senior students, and they have had difficulty finding new volunteers to step up and take over positions such as President and Treasurer of the fund.
The NRHS Endowment Fund has made a profound behind-the-scenes impact at Nashoba for the past nineteen years. The fund originated in 1999, and since then, its main objectives have been to "enrich, complement, and encourage the educational experience of NRHS students, both within and outside the classroom" (NRHS Endowment Fund). Within the 2016-2017 year alone, the Endowment Fund provided grants to seven different departments across the school ranging from white boards for the math staff to a dishwasher for the special education department.
Mrs. Hera, an English teacher at Nashoba and a large supporter of the Endowment Fund, is saddened to see the fund come to an end. "Over the years, the fund has supported such a wide range of creative projects benefiting students in ways that extend beyond the standard curriculum. Years ago, the Endowment Fund helped the English department expand its selection of high-interest choice books for students to read for our classes." Mrs. Hera speaks for many staff members explaining that "Teachers throughout the building have been so grateful for the opportunity to propose special projects for support by the Endowment Fund, and are sorry to see the loss of this wonderful perk from our communities."
In addition to providing money to enhance the educational environment in classrooms, the Endowment Fund has distributed the Mary Ann Session Exellence in Education Award, also known as Educator of the Year Award, at Nashoba since 2003. Teachers such as Mrs. Bailey, Mr. Andreopolous, and Mr. Poirier have received well-deserved recognition over the past few years for being positive role models for their students inside and outside of the classroom.
The fund will cease to exist by the end of the 2017-2018 school year, and all money remaining in the Endowment Fund must be spent. The staff at Nashoba have until the 30th of April to apply for grants. The guidelines for the grants will remain the same; requests may either sponsor a new student club or work to enrich the learning environments in classrooms. Grant applications are available on the Nashoba Regional High School Endowment Fund WordPress website.
Sources: https://nrhsendowment.wordpress.com/