Nashoba's Blithe Ellis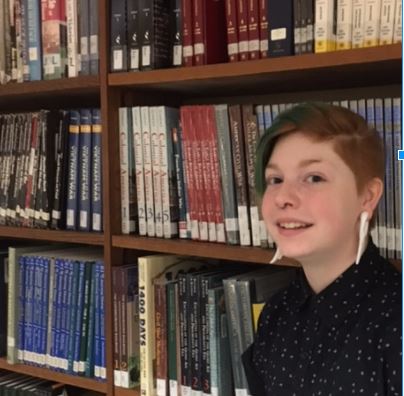 "If you look at really old trees, some of the most beautiful trees you'll ever see in your life are gnarled and twisted and look like they've been through hell and back, yet they're still standing. And that's how I view myself. I am a tree that's been through droughts and diseases and hurricanes that no human should have to go through but, I've come out on the other side of it."
The quote sounds like something you'd hear in a TED talk or a great philosopher say, not from the mind of a 16 year old Nashoba junior. Blithe Ellis is in the foster care system, and has been in and out of it since he was 11. In addition to his struggles in the foster care system, he is also transgender. He says, "It's not as glamorous as people make it out to be. It seems to be a trend, but it's really not, it kinda sucks". He continues by explaining how at a young age he knew he was different, and everyone else seemed to as well, as he got bullied almost everyday. After figuring out he was trans at age 13, he decided it was time to pick a name that was better suited to him. He picked the name Blithe because the definition of the word is "really happy despite a cynical outlook". His name serves as a reminder that despite the circumstances he has been placed in, he still has the power to be happy.
Because he is trans, he has faced increased discrimination in the foster care system and in his own family. He was kicked out of his mother's house when he was 15 years old, after having just been located back to his mom. "I came out one day to my mom; basically I decided I was going to 'put on my Big Boy pants' walk downstairs and tell mom: 'Hi, I'm your son' and she looked me dead in the face and said, 'No you're not.'" After weeks of ignoring the situation, it was at his mom's wedding when it all came crashing down. He was forced to wear a dress, making him extremely uncomfortable. A week after the wedding, he was kicked out. "We had this really big fight about how I'm not what she thinks I am. I'm not this daughter, this woman figure that she wanted me to be. And how I need to be true to myself, how I am her son and she can take it or leave it". After the fight, he went out on the porch and was locked out with nothing but a jacket.
Following his eviction, he was living on the streets for four months. He explains, "I had really nowhere to go. I had already tried living with my biological grandparents, and it didn't work, so I had really nowhere to go. I ended up hanging out near the school that I went to, Wareham High School". Education means a lot to Blithe, so when he would be "out of school for weeks", he knew it wasn't a life he wanted to be living. "I had to do a lot of stuff I'm not proud of just to get by, although, it's taught me a lot about the world and the human condition". Blithe's positive attitude helped him on the streets where instead of complaining about his situation, he took it as an opportunity to learn.  
After living on the streets, the foster care system figured out he wasn't with his mother, and took him back into their custody. Although living in the system with a roof over your head and food seems better than the streets, he didn't feel that way. Blithe used to be suicidal, as he would feel unwanted and unloved, going from home to home and being kicked out, but he states that he is in a "much better mental state" now. He says, "I've probably been in worse situations than most of the population will be in their life", but he doesn't let his experiences get to him anymore. He talks about his coping mechanisms and how he has learned to deal with negative thoughts: "Basically it's just changing your mindset, you gotta look at where you've come [from] and where you are". He claims that another aspect that helps him cope is art: "I find art and beauty in everything. I think the best art is born through struggles and pain, and the best art captures that".
Fortunately, Blithe is no longer on the streets. He is back in the foster care system, in the RFK program, which acts like a homeless shelter to some teens who don't have a home. He was placed in Nashoba at the beginning of the 2017-18 school year to wait for a new foster home, which he has not yet found. He reflects on his time at Nashoba so far saying, "Nashoba is great. I really like it, the kids here are awesome". His favorite classes are foods, history, and anatomy.
What's next for Blithe Ellis? He just applied to the Gateway program at Mount Wachusett Community College, where he hopes to continue high school, while getting his associate's degree. He wants to go to MassArt for college, so he can live out his dream of being an artist. Whether it's through animation, illustration, or marketing, he doesn't care, just as long as he can draw. He takes education very seriously because he views it as his way out. "Hands down, [education] is really the only way you can survive the foster care system and sadly a lot of kids don't realize that". Blithe ends on a positive note saying, "I can really take anything with a smile", which is true as he can be seen walking around the halls of Nashoba, never without a smile on his face.