Underrated: An Appreciation of Panic! At The Disco's Pretty Odd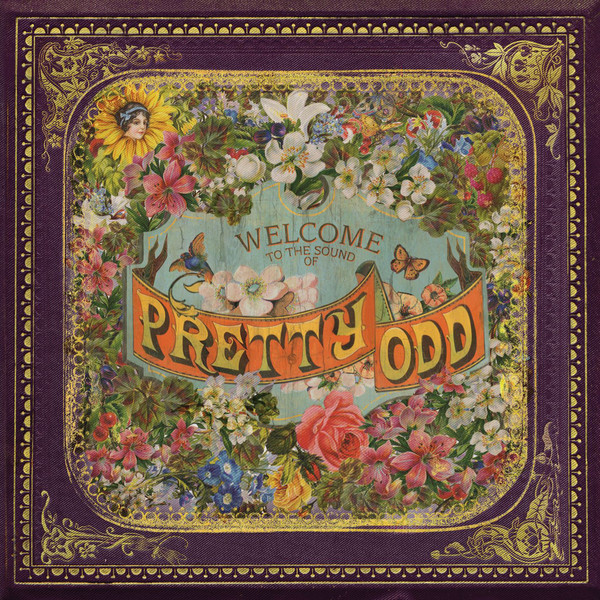 Panic! At The Disco is an alternative rock band which gained relative popularity in the 2000s due to the release of their first album, A Fever You Can't Sweat Out. The album features staple emo/pop-punk music only, with headbanging power chords and angsty lyrics. However, for their second album, the band dropped the exclamation point and departed from their original sound as they said they "wanted to write songs differently in the sense that not all the songs sounded the same or were part of one set genre… just doing something different." So production on Pretty. Odd. began.
The lineup for the band remained mostly the same, with singer/guitarist Brendon Urie, guitarist/writer Ryan Ross, and drummer Spencer Smith. The original bass player, Brent Wilson, was replaced by Jon Walker. The creative process however was quite different. Urie recalled, "We'd been living for two months in this cabin…  We were just tired. We wanted to get away and write a record, just isolate ourselves from any society… Just a bunch of guys on psychedelics."
The use of drugs Urie remembers is visible in the final product. The songs contain quite trippy lyrics and odd metaphors. Musically, Pretty Odd is a stark contrast to A Fever You Can't Sweat Out. Where Fever was harsh and mostly one music style (pop-punk), Pretty Odd is softer and shows a large variety of sounds. The band dabbles in classical, folk, 60s-influenced pop-rock, and dixieland, and they've cited a sizable Beatles influence on the album (and if you ask me, a Beatles fanatic, that is never a wrong move). Allow me to explain further.
First off, the cover art is beautiful. It's very intricate and colorful, without being assaulting to the eyes. It's without a doubt in my mind the best album cover out of all of Panic! at the Disco's albums. It has the vibe of an old-timey music box. The intricacy of the cover also communicates the well-constructed and layered musical content within.
Pretty Odd kicks off with "We're So Starving," a song in which the band decries that "We're so sorry we've been gone/we've been busy writing songs for you," a reference to the two year hiatus between albums. Seamlessly the introductory song flow into "Nine in the Afternoon," the poppy, psychedelic lead-single "Nine in the Afternoon" in a manner not unlike Sgt Pepper's Lonely Hearts Club Band. The song is wonderfully orchestrated, with bendy guitars and swooning strings sections. It's a lovely tune, followed by a rather cryptic tune: "She's A Handsome Woman." The lyrics are trippy and dreamlike, which is amplified by the swaying instrumentals. "Do You Know What I'm Seeing?" is a strange song about weather, which sounds like sitting at a farm house and watching clouds and storms pass by gently. "That Green Gentleman" is anthemic with heavily distorted guitars and a singable chorus. It could have come straight out of an old musical, complete with jazzy instrumental and old-timey record grain. "Northern Downpour" is a lyrical masterpiece. The words paint wonderful images and is overall a sweet and soothing song. "When the Day Met The Night" is pure camp, which is a nice listen, and though it's the weakest on the album, it's still quite good. The band bristles with energy during "Pas De Cheval" (meaning "step of the horse," named so for its hoof-beat rhythm), and is the only song on the album to feature a real guitar solo. "The Piano Knows Something I Don't Know" is paranoia in musical form where the band dabbles into progressive rock. Ross takes the lead on vocals with "Behind The Sea," a soft lullaby filled with a plethora of nautical imagery. "From A Mountain In The Middle Of The Cabins" could have easily been released in the 60s with its piano driven melody and backing vocals. "Mad As Rabbits," energetic and organ-powered, would be well suited to have been on the radio in the 70s. The band also experiments with musical pastiches. "I Have Friends in Holy Spaces" is an old-timey ditty completed with jazzy instrumental and record grain; "Folkin' Around" is a satire of the folk genre; "She Had The World" is not unlike something that baroque composers might have written, featuring the waltzing orchestras and a lovely harpsichord.
Overall Pretty Odd is severely underrated. It has often been overlooked by fans of P!ATD as it's such a grand departure from everything else they did. In my opinion however, it is the band at their best. They took risks musically and it paid off. The production is clean and layered masterfully. It's an exploration of all different genres and the band shows a dexterity of all of them. In addition the lyrical content is meaningful. Pretty Odd for me rates as one of my favorite (and most underlooked) albums of all time.