The Girl with Many Talents: Marianna Sardella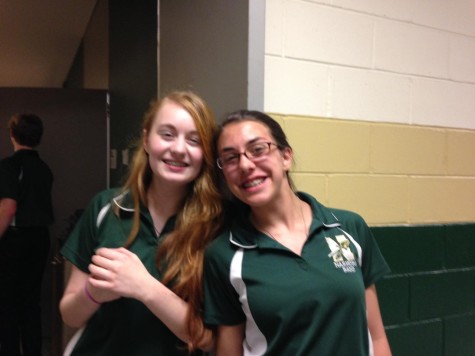 Walking through the halls of Nashoba, there is one girl who, believe it or not, keeps her grades up, plays numerous instruments, is a member of multiple clubs, and is involved in every choir at Nashoba.
Her name is Marianna Sardella, a sophomore at Nashoba Regional High School. She is an incredibly well rounded student, who does different activities to make herself busy. She has been singing since she could basically talk, and has been writing songs from a very young age.
"I would sing this song on my swings in the summer," Marianna recalled. "Spring, summer, fall, winter, I would just sing it over and over again until someone told me to stop." She still writes songs today, with about six songs fully written and other songs that that are in the works.
Marianna doesn't just write these lyrics and a melody, but she also accompanies the songs she writes with the instruments she knows how to play. She fluently plays four different instruments: the saxaphone, xylophone, piano and fife. She is also learning to play the violin in her free time, which seems non-existent. She has participated in band for seven years, and has been playing piano since she was three.
In addition to playing music, she is also a member of the track team. She runs the 400 meter and the 4 by 4, throws the discus and  shotput. She started track her freshman year, and wants to continue throughout high school.
If music and track talents weren't enough, she is also a member of Destination Imagination and the Good Young Movement. She has qualified for the National Honors Society and rock climbs for six hours a week. How does she manage the stress?
"I tend to just ignore it," Marianna laughs. "I focus on what I'm doing, I talk to people, and when it gets really bad, I put a heating pad on my face!"