Sounds of Summer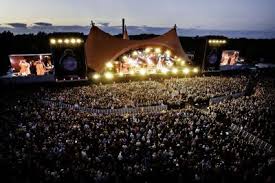 When the weather heats up and the sun comes out, so do the fans. Whether the genre is pop, punk, country or rock; there's a concert for everyone. Lady Gaga, Britney Spears, Miley Cyrus, and Bruno Mars are only a few of the artists to be looking forward to this year for summer concerts.
Summertime is one of the biggest seasons for concerts, with the Country Music Festival and the Vans Warped Tour, the number of concerts to see is endless. Those who live for live music have already purchased tickets, and have their summer schedules filled with concerts.
Senior, Kelley Brennan, has some insight on the hot concerts of the summer. She has recently gone to see Miley Cyrus on her Bangerz tour last month, and this August she will be attending the Luke Bryan concert. "I'm going to see Luke Bryan at Gillette Stadium, and I also saw him last year at the Comcast Center. Unlike last year we won't be tailgating. Last year we went several hours before to get together with our group. The weather was sunny and nice and it made for a great concert!"
There is buzz going around about Beyonce's latest news; she and her husband, Jay Z, will be hitting the road together this summer on their "On The Run Tour". They will be starting off their tour in late June in Miami and hitting fifteen other cities this summer.
Not a Beyonce fan? That's alright, there are plenty of other concerts to see, including Justin Timberlake. With his recent comeback, Timberlake fans are running wild ready to see his classy act on stage. Country music fans don't worry, there's something in store for you too. Along with Country Music Fest, country fans are excited to see Jason Aldean  as well as Florida Georgia Line at the Xfinity Center this July. Fans can be sure to count on seeing the enchanting Luke Bryan at Gillette Stadium this August.
For those who are not into country or pop music, Warped Tour is a little ways down the road. This July over a hundred bands will gather at the Xfinity Center in Mansfield. Donovan Joyce, a senior here at Nashoba, informed the Chieftain Press about a three day music festival in Boston. "I am going to the Boston Calling Music Festival on May 23rd, there's about twenty bands or so. I'm pretty excited to see Jack Johnson and  Modest Mouse".
Whether you're a frequent concert attender or new to this lively scene, this summer is sure to be jam packed with awesome shows suitable for everyone's musical interests.
Photograph credits  http://www.sporcle.com/