OUR HOUSE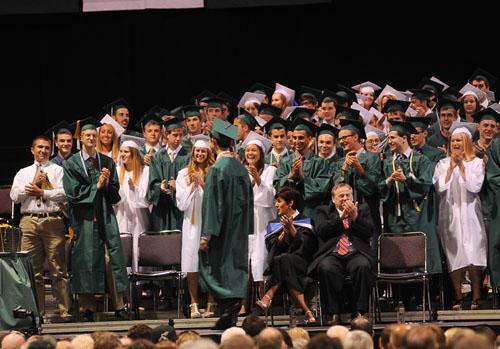 For the third year in a row, Nashoba Graduates will walk across an impersonal stage, miles away from home, that has nothing to do with  Nashoba.  The seating may be more comfortable, and the room may be air conditioned, but what about the tie to our high school?
Talking to many seniors, almost every person said that they would rather have graduation on their home field. One reason for that was that Nashoba has a brand new beautiful football field that has never had a graduation on it before and  many students said that they  would like to graduate at their school.
When Alumni were asked about the DCU venue, they  described  it as "cold" and that it didn't feel like a high school graduation. Not to mention the fact that every ticket a person purchases after the first two, are an additional $6. In addition, students are only able to buy an additional 6 tickets, which does not include the 2 free ones. Samm McLean, a senior at Nashoba, commented on this. "Since when is everyone okay with paying an extra $6 for tickets to graduation, when it isn't even at your own school? Or having to tell your grandmother that they they can't go to their grandchild's graduation?"
It appears that seniors aren't interested in graduating miles away from their high school. Personally, I would rather graduate on my home turf. There would be no better feeling than to walk across the stage where our football team has made history, where memories have been formed and friends have bonded.