Two Year Old, Anakin Gammon, Drowned
Father Charged With Death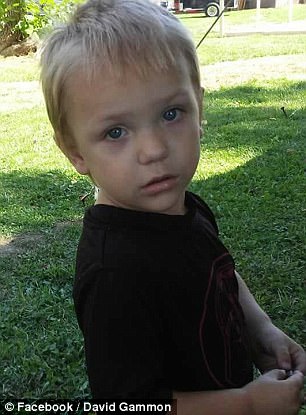 Anakin Gammon was a 2 year old boy who went missing along with his five year old brother Payton after their father passed out drunk. In an exert from the Daily Mail "David's wife Nickie, a mother-of-five, told police she had been up until 4am that morning and went upstairs at 1pm, leaving her sons with their dad." It was during this time, according to New York post, that "The two boys were reported missing and police found the 5-year-old, who has special needs, a few blocks from Gammon's home" However, Anakin was still missing. The New York Post reported that "Gammon told police he had been 'sipping' on [an alcoholic drink called] Four Loko, when he took the tot and his 5-year-old brother outside."
It was there that the father dozed off and was only awoken by a neighbor who told the New York Post that, "he foud Gammon asleep on the lawn after another one of his children came over saying that he couldn't wake his dad or find the siblings." Anakin's brother, Payton, was found medically sound and unhurt, but the same could not be said for his brother. According to Daily Mail, Anakin was found "in a fenced-in backyard pool on Syme Street in Masury, Ohio, just nine blocks away from home." First responders worked hard to bring him back, but they ultimately had to declare Anakin dead at the hospital.
Anakin's father is now being charged with involuntary manslaughter and child endangerment. Daily Mail reported that "Gammon remained in the Mercer County Jail on $150,000 bond pending his next court appearance on November 17." The Daily Mail also wrote that "David Gammon's negligence led to Anakin's drowning death because he was intoxicated and unconscious when the boy and his brother took off from the family's home." WKBN news reported that "the Erie County Coroner officially ruled his death a drowning."
Anakin Gammon's life, while cut short, touched so many and he will be missed greatly by his family and friends.