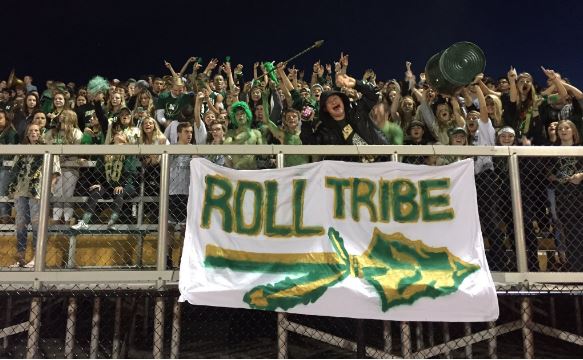 Mary Marotta
Nashoba is known for its sports and having great athletes in this building. Every sporting event in the past has been dull with a lack of student support. Recently Ms. Rich and students came up with the idea of spirit captains. Their role is to build up the school spirit at Nashoba and at all sporting events. The spirit captains are in charge of The Tribe, which is what the fan base is called. This year's spirit captains for the 2017-2018 school year are Charlotte Dempsey, Justin Peirce, Robert Ryan and Joey Martinez, who have been  coming up with great ideas on how to get more school spirit and more fans to games.
In previous years, The Tribe tried to increase spirit, but this year is the year when it is going to happen. The first football game of the year was a huge success, both in spirit and a win. The fan theme of the game was, beach theme; The Tribe came out in full gear packing the bleachers. Charlotte  Dempsey told The Chieftain Press, " Our goal is to get everyone involved and really create a collective effort to support all of our teams. We also want to create a united atmosphere – like a Tribe" The spirit captains are not only trying to make the football and basketball games better, but also all other sports.  Joey Martinez explains. "Obviously football and basketball are the two major sports at our school, but we  want to encourage people to go to other sporting events such as soccer, volleyball, field hockey, baseball, etc".
Other ways that the spirit captains  are trying to increase spirit are by advertising games more on the Twitter page or by making a hype video and getting the word out. Joey also said, " If we can get collectively at least our group of friends to go to the games than more people will follow and more people will want to go." He also stated that there are spirited people in this school, but as a whole school it lacks spirit for certain games. The Seniors who obviously want to have fun and go to all their friend's games and have the most spirit- but for underclass it is lacking probably due to the fact that they are new to the school and don't know better.
As the sports season has just begun, be ready for some crazy spirit and follow The Tribe on Twitter @FanNRHS as they will tweet out spirit days and big games going on that week.