A Fairy Tale Life? A Musical.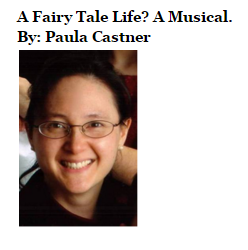 Looking for something to do on March 11th and 12th? Well, you're in luck. Luther Burbank Middle School is premiering their production of A Fairy Tale Life? A Musical and to top it off, they are also creating their own CD with all of the music.
The story centers around four characters: Josh, Marisa, Brian, and Kelly. All of them are depicted as individuals dealing with typical teenage problems: dating, friendships, self-esteem, and the 'desire versus limitation' phenomenon. Meanwhile, their Fairy Godmother makes the Evil Queen watch the four kids as a consequence for putting Snow White to sleep. The play ultimately connects fairy tale-life and reality. The kids wish their life could be a fairy tale, for things to be much simpler, but through their experiences they learn that whatever challenge they face, they can solve it. Meanwhile, the Evil Queen takes away her own lesson.
Mrs. Castner, Luther Burbank's drama director, a member of the district, a parent of a Nashoba Regional High School and Mary Rowlandson Elementary students, and a participator in local organizations, started writing the script back in June. For months she worked to revise the script and collaborated with Nancy Beaudette, a Canadian Folk singer, to create the music.  Nancy Beaudette wrote all the music, and then these two talented ladies co-wrote all the lyrics/words.
When asked what inspired the production of the play and the CD, she responded:
"I've been directing plays for many years, and the students have always been free with their 'complaints' about the types of plays available for middle school students to perform.  Many have only one male lead, one female lead, male dominated roles, and a small number of total roles. Those without a designated role are relegated to the chorus, where they are forced to sing songs that aren't always geared toward student singing. So my musical has 36 roles with 8 lead parts, more female roles than male, short and fun songs in the range of middle school students, and all but three songs for the entire cast."
The play includes twenty five students from Luther Burbank, along with those working behind stage, and a few high school students producing the CD. The CD includes singers like Brianna Ankstitus, Allie Kovacs, Hayley Giovinazzo, Colin Delisle, Meredith Brummer, Laura Goyette, Nick Mellis, Emily Castner, and Gabriella and Elizabeth Brummer. Two of the fourteen songs were created by Gabriella Brummer and Molly Owen with the help of Nancy Beaudette and Madison Brady created the CD's and play's artwork. 
The production is estimated to last an hour and a half to two hours. So, if you are interested, the play will be at 6:30 pm at the Luther Burbank Middle School auditorium.