Field Hockey Starts with a Bang!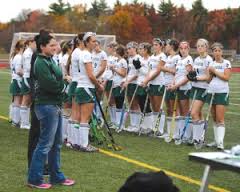 The  renowned Nashoba Girls Field Hockey started their 2015-2016 season off with a bang! They have played three games so far against Leominster, Shrewsbury and Littleton, and boast a record of 3-0. What a way to start the season. Their current varsity captains are Tess Anderson and Sidney Lowe, both seniors. Mckenna Hannigan, returning Nashoba Girl's Field Hockey player stated, "The team is looking very good this year, I feel very positive about the upcoming season, we are ready to go out there and win!"
The girls varsity coach, Jamie Mariani, won coach of the year last year and is adored by all her team members. The team has very high expectations for themselves this season since their varsity team only lost two games last year and made it to the State Championships. This season's goal is to make it again to the State Championships and hopefully bring back a trophy!
According to information from the hometelegram.com, on September 16, 2015, in the varsity game against Leominster, "Senior Tess Anderson had two goals and an assist, and freshman Natalie Brown also scored twice to lift the score to a 7-1 victory."
Nashoba Girl's Field Hockey is a very close-knit team and Hannigan thinks this is mostly due to "the large abundance of team bonding we do, it really brings the team together and I definitely think it helps the team perform better on the field, too. These girls are like my second family, I love them."
To honor their former teammate, Michelle Farnsworth, the team sold "hocsox" in Michelle's blue color.
NFH is a very spirited team that gets into their spirit days. Some of the team favorites include beach day, stealth day, and Nashoba-spirit day. Since it is a fall sport, of course NFH participates in the annual Making Strides Against Breast Cancer walk that takes place in Boston. All the players get decked out in pink uniforms, pink hair spray, pink glitter, and lots of pink face paint.
Good luck in the rest of your season, Go NFH!