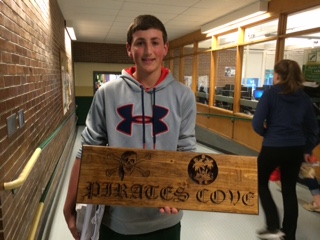 Over the last year, I have seen some pretty impressive products coming out of Mr. Leblanc's wood working classes. I have been into Mr. Leblanc's class only once, but I'll tell you, this class did not look like the wood working class I attended back when I was in high school. Yes, I took wood working. And no, I was not very good at it, but I loved it.
Last fall a number of my students walked into my classroom with a number of professional looking picture frames, some of them were even engraved with a significant word or phrase. Then, just a few weeks ago, beautiful Adirondack chairs popped up on the set of Nashoba News. These hand crafted chairs put to shame every piece of deck furniture  I own.
Just when I thought that they couldn't top  that, my student Ethan Hill, walked into class with an intricately crafted sign that he has informed me will reside in his home in New Hampshire. I'm assuming it is by the water as the sign read "Pirates' Cove". If you haven't had a chance, take a look at what some of our students are making in wood shop; I imagine you'll be as impressed as I've been.