Play for Will Recap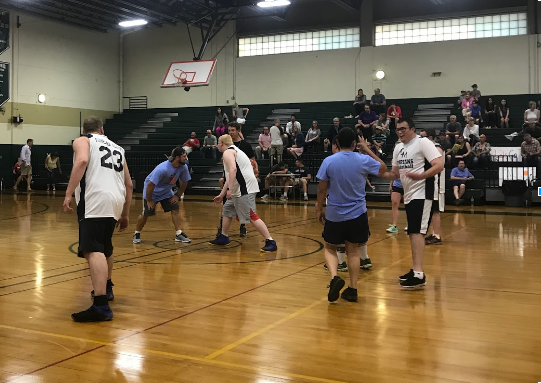 The 6th annual Play for Will game was a huge success with smiles on every player's face and a loud and rowdy crowd cheering on both sides.
The game took place last Friday, June 8. From the tip-off, the gym was filled with energy. Both teams came out aggressively as the Spartans started to build a lead. At the end of the first half, the Nashoba Staff hinted at a comeback, but couldn't quite get it done, as the Spartans pulled away with an easy double-digit victory.
Nashoba graduate, John McNulty, and current Junior, Sam Bolinsky, commentated the game, adding jabs at anyone from the teachers to the referees. John let referee, Andrew Ahlquist hear it after a controversial call after Mr. McCarthy picked up Nick Giovinazzo and dropped him in a courtside trash barrel. The game was highlighted by two big three-pointers by Zach Murphy, including one while being tightly guarded by Mrs. Pratt.
Although not the main goal of the event, a great deal of fundraising was accomplished, as well. One thousand dollars was raised, including $500 to the Jimmy Fund and $500 to Nashoba Best Buddies.
Thank you to all of those who participated, helped out, attended, and donated at the event. We look forward to another great game next year.